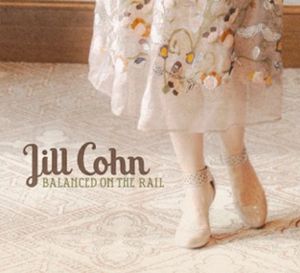 Meet the Musicians who perform on Jill's CD's and Appear on stage with her.
Dennis Staskowski - Stand-up Bass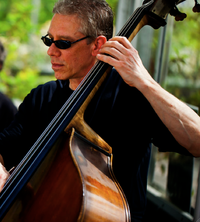 Dennis arrived in Seattle by way of Detroit and Los Angeles, and has since performed, recorded, toured and recently performed
and recorded several new works by contemporary composers Byron Au Yong and Sumiko Sato, as well as the contemporary improvisational group bass/hornz . He has also performed and recorded with many other Northwest-based jazz, rock, world music, and other diverse groups, including the Seattle Creative Music Orchestra, One Hand Clapping, the Valse Cafe Orchestra, Opera Jupiter, and the Deepak Ram Quintet. Dennis recorded with Jill on her 1999 "The Absence of Moving" and 1994 "Stories from the
Blue Bus". He brings with him a wonderfully unique musical compliment to her music
Greg Fulton - Guitarist / Composer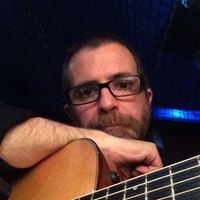 Greg is a Seattle based musician, composer and orchestrator and plays guitar, banjo, mandolin and keyboards. He works in pit orchestras at the 5th Ave. Theater, Village Theatre, ACT and Paramount Theatre. Greg is also an orchestrator and composer, plays with Carrie Clark and the Lonesome Lovers, The Jazz Police, and has a diverse history of free-lancing and session work. Greg also lives with and is recovering from Focal Dystonia. He has performed with Jill regularly since 1998 and has appeared on "the Absence of Moving", "Window to the wise", "Seven Year Surrender", and most recently on "Balanced on the Rail".  He has composed and directed string compositions for all of Jill's works, including "Every Street Inside of you ~Mexico City"
Michael Barsimanto - Drums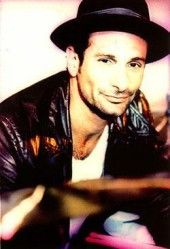 Michael Barsimanto helped to found Shapes and his contributions to the band's development are very significant. It was his idea to call Jimmy Haslip to sub for Dean and that proved to be a brilliant idea indeed! That's the kind of forward thinking that has kept Michael in demand as a top notch drummer for well over two decades doing tours, sessions and outstanding projects with some of the top names in music. He began his recording career with jazz saxophone legend and former Miles Davis , Elvin Jones sideman, Dave Liebman and not long after that, he toured with the trumpeter's trumpeter, Freddie Hubbard. As he's become more well known, his resume has grown to include names such as jazz violinist virtuoso, Jean Luc Ponty, vocalist Ivan Neville, Billy Preston, the fifth Beatle, Andy Taylor of Duran Duran, guitar hero Steve Vai, former Police.  He Performed on Jill's first CD "13September6" as well as "Every Street Inside of you ~ Mexico City" and "Beautiful I Love You".  Michael is also credited with helping Jill get her start during her formative years in Hollywood.
Shane Trout - Drums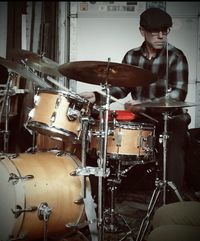 Shane was the principal drummer with Jill from 1999 through 2006.  He toured the country with her as a duet and played in her band as well as performed on "Window to the Wise", "Seven Year Surrender and most recently "Balanced on the Rail".